The Holy spirit is always there to help & guide us through our difficult times!
The church teaches us that the family is the "domestic church", your family is almost like a miniature parish.  This is a perfect time to come together as a family and share your faith with your children!
Below are links with important information and updates.  Also, we've attached some family resources for lesson plan ideas, family prayers, projects and more!  If you have a great site to share, let us know!
Daily prayers for the Children & Family
Basic Prayers – USCCB
The Holy Rosary
Stations of the Cross
History of the  devotion of the Sacred Heart of Jesus
Symbolism of the Sacred Heart of Jesus Image
8 Ways to Honor the Sacred Heart of Jesus at home
Strengthening the Family through the Sacred Heart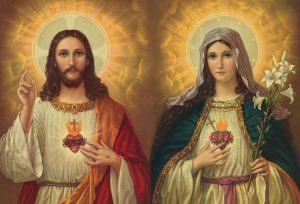 Sacred Heart Coloring Page 1
Sacred Heart Coloring Page 2
Sacred Heart Coloring Page 3
Important Communication Websites & Social Media
Catholic Family Websites
Loyola Finding God Family Resource Page